Nike's self-lacing shoes will be available on November in the US
Nike's self-lacing shoes will be available on November in the US
Great Scott!
Nike's self-lacing shoes, called Nike HyperAdapt 1.0, will be on sale on November 28 in selected Nike retail stores. To younger bloods who can't relate with the hype, let us take you back to where it started.
Thirty one years ago, Michael J. Fox starred in a phenomenal Sci-Fi film "Back To The Future" alongside Christopher Lloyd, which follows the story of Marty McFly (Fox) messing up with his life's timeline. Dr. Emmett Brown (Lloyd), a scientist, lends McFly his time machine to help him fix this out. In its second installment, Back To The Future 2, a self-lacing Nike shoes came into the frame, which the giant shoe company plans to produce in real life.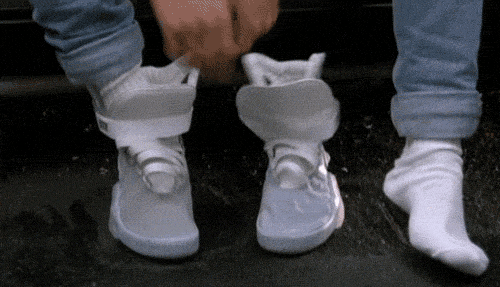 According to CNN, here's how the Nike HyperAdapt 1.0 would work: sensors in the shoe detect when it is being worn. A "lace engine" in the base of the sneaker then controls a system of nylon bands that tighten around the foot based on algorithmic calculations. The sneaker features two buttons that let users tighten or loosen the laces. The bottom of the HyperAdapt sneakers attach to a wireless charging pod, and takes about three hours to fully charge and lasts about two weeks.
Official Nike news website says that "Appointments to experience and purchase the product begin November 28. Details on how to make an appointment will be announced in the coming weeks."
Again, GREAT SCOTT!